Be Smart 
The smart heating can be personalised to suit you and others living in your property by setting a different schedule every day to suit you and can be done easily from an app.
Save Gas
The exact saving will be different from home to home but according to data gathered from Tado customers the average energy saving in the UK is 19%. The average annual gas bill in the UK is £572, which could mean saving of around £110 a year. According to a leading smart control heating company its UK customers saved between 8% – 16%.
Get Wiser
They are straight forward and convenient to use and can be controlled when in or out of the house.
Why smart control
With the cost of gas going higher, even with a modern efficient boiler the cost is going to rise due to your controls not know what is truly needed to heat your house properly.
Smart controls are connected to the internet and know when it is cold or hot outside, they can anticipate how long the heating needs to be on to keep you warm and this is how they can save up to 20% more gas that standard controls.
The room thermostat is connected via Bluetooth so even if the internet goes off you will still have heating.
Why Drayton Wiser
We have been fitting Drayton controls for nearly 30 years, as a British manufacture of controls we like to support them.
The other consideration is data. Like most things connected to the internet you are telling people how you are heating your home, this is the important difference from other smart controls you may have heard of.
We have asked Drayton about this and they do not give your date to anyone else, so you won't be marketed by 3rd parties for better insulation or other products that may be of interest to you.
Which system do I need?
If you have a combination boiler i.e. no hot water tank then a Wiser Kit 1 gives you all the control you need.
If you have a hot water tank and one room thermostat then a Wiser Kit 2 is the right solution, it allows you to set the hot water to reheat at certain times and have control over the heating system too.
If you have a Worcester combination boiler and use the warm up or preheat function then a Wiser Kit 2 also works really well, so you can warm the boiler up and at higher usage times get hot water quicker and save on water too.
If you have a hot water tank and can heat upstairs and downstairs with different room thermostats then a Wiser Kit 3 is the best system, it will allow different temperature zones in the different areas.
Can I control other things?
Wiser smart plugs can be used to set up anything that needs to be plugged in i.e. lamps for when you are away. You can set times for them to come on and off so people think your homes when you are away, they can also tell how much electricity it uses, useful if you have an old fridge or freezer that may be using a lot of electricity without you knowing.
Wiser radiator thermostats can also control individual radiators so if you want a cooler bedroom or spare room you can set them up to a lower temperature when not in use.
How long does it take to install? Most standard fitting takes about an hour to wire in and set up because it can be a direct replacement to the existing programmer we have fitted over the last 30 years. You also get a wire free room thermostat and table stand so now the thermostat can be located in the best place to keep your house at the right temperature.
How much does it cost?
 

Care Plan Customers

 

Regular Customers

 

New Customers

Wiser Kit 1 – Combi Boiler
          £240
          £250
          £274
Wiser Kit 2 – Conventional Boiler
          £249
          £261
          £285
Wiser Kit 3 – Multi Zone
          £322
          £344
          £368
Wiser Smart Plug
          £38
          £38
          £38
Wiser Radiator Thermostat
          £48
          £48
          £48
Please note these prices are inclusive of a labour charge and vat
See what our customers say: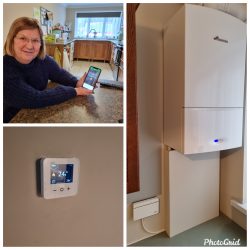 Wiser allows Mrs Collingwood to control the temperature of her heating from the safety of her mobility aid without trying to access a wall fixed thermostat. Mrs Collingwood loves the new Wiser heating system all controlled on an app from her mobile phone, all very simply and easy to use.
"amazing product – it has given me freedom! I can adjust the heating from anywhere within my home through the app on my phone"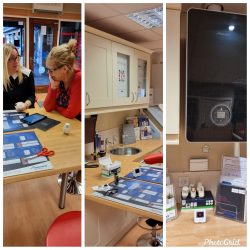 Here you will see our lovely friendly office ladies learning about the new Wiser products, the individual radiator thermostats, the individual plug sockets and the app itself.
Dr Khan who works at a local hospital is making the most of his Wiser heating system. When he finishes work he can adjust his heating up or down depending on the weather and how warm he would like his house before he returns home from a long shift at work, all from the comfort of the app on his phone.
Debbie a happily long standing customer of First Call Heating. Debbie was looking for a new thermostat to control her heating and wanted to upgrade to something new, wireless and making the most of the latest technology but also a product that can help save money, Wiser ticked all the boxes with up to 20% energy saving available. Debbie lives a full and busy life and wanted to be able to access her heating while constantly popping in and out of home.
Mr Rackham of Shirley, Southampton had Wiser fitted in November 2021 by ourselves and he said,
"In early October First Call's engineer James came to check my old central heating controller and asked me to consider upgrading to Wiser control hub linked to a room thermostat unit and TRV's.
James was very helpful, and after the unit was changed, the new hub was linked to the room stat and an app on my phone. The app downloaded weather and temperature information about where I live and adjusted the heating accordingly. The app has easy to use functions for scheduling and to boost comfort levels or to set an away mode to save money.
The smart hub will also schedule other items too if you add smart thermostatic radiator valves in additional rooms or Wiser's smart plugs to the system.
Compared with my old set up by using the new features I had a saving of over 20% in October.
I would recommend the excellent service and expert advice First Call Heating gives and also give a five-star rating to the Wiser personalised heating system that they fitted too.
Mrs Rogers of Bassett, Southampton had Wiser fitted in November 2021 by our engineers and has left us with great feedback,
"We are using the Wiser app mostly just to switch the heating on or to turn it up. But it's very easy to use and works well"
What to do next
If you want to make sure we turn up with the right kit, it is probably best to send us an email with a picture of your existing programmer and room thermostat, we can then confirm the price and a fitting date
Email firstcallheatinginfo@gmail.com  or call us for a chat on 02380 262690
See What Our Clients Think
Read all our reviews here on google.
Brilliantly professional and prompt, my father switched to them from British gas after the recent issues they have had with the service staff and I cannot fault First Call Heating at all. They are professional, reliable and prompt. Just used them for a boiler service and the chap was polite, rang ahead when running ahead of schedule and completed the job with a minimum of fuss.
Colin Brown
Really polite and helpful man, explained things in detail and knew his stuff. Very quick for pricing and replying of calls made.
stewart harder
Always quick to come and do our annual boiler service. Had no problems with our boiler since it was installed 5 years and the service price has stayed the same I think which is great!
Rachel O'Brien
Have been using First call for the past 4-5 years, on a monthly fee that covers the annual boiler service and in case of a call out. Can't fault them, always on point and on time. Great using a local company.
Stavroula Papageorgaki (StaviP)
Very professional company. I have used First Call Heating three times for different projects and will always go back to them. They have the best customer service and make you feel really special no matter how big or small the job is. Will strongly recommend them to anyone!
Yuliya Mincheva
Firstcall have always been my first port of call over the many years.
They installed our combi a few moons ago and service it yearly. plus they were on hand when i put a screw through a water pipe too. Can't fault them to be honest. Keep up the good work guys & girls.
Darren Wardell
I had a new heating system and boiler installed by First Call and I am really pleased with their work.
Very tidy and flexible arround the customer!
Top notch company.
Julia M