We have grown over the years, based on organic growth and the demands of our existing customers. We train and employ all our own engineers.
As a company built on fully qualified staff, we find it essential to keep up and exceed industry standards and so we are members of Gas Safe (& Corgi) and the CIPHE (Chartered Institute of Plumbing & Heating Engineers) but most importantly we are Accredited Installers for Worcester. We also happen to be specialists in central heating systems, boilers and all other gas appliances including combination boilers and LPG (Liquid Petroleum Gas).
James Walker
Founder and Director
I started the business in 1993 and here we are nearly approaching our 30th Anniversary, with a vision to offer a better and more customer friendly service than previous companies I had worked for. I never imagined that when I went out working for myself setting up First Call Heating it would go this far.  Looking back, I achieved my vision and so much more.
Although, I oversee all aspects of running the show I do still very much enjoy getting out and meeting our customers and attending to jobs, that being services, breakdowns, or quotations for work, wherever I am needed.
I hope the challenges ahead will be as much fun as the previous year. No matter how big or small your heating needs my team are here to help and I am very proud of that.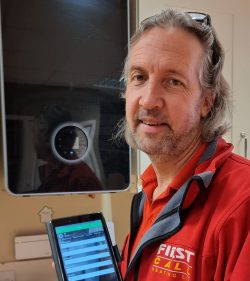 Sue Viney
Customer Care Manager
Sue Joined the Team in 2014 and since being with the company has implemented some good business practices to ensure the smooth running of our customer database and engineers diaries. Sue is the first point of contact for all our customers, whether over the phone or face to face when visiting our showroom, and with years of dedicated customer care, is loved by all.
Covering all aspects within the office, from scheduling customer call outs within our engineers' diaries, whilst busy processing their paperwork and ordering spares to keep our engineers' diaries running smoothly.
Amanda Howells
Finance Manager (Accounts Manager)
Amanda joined the Team in early 2021 and is the focal point for processing and overseeing all our accounting needs within the business and covers all areas of finance from billing our customers, through to financial planning and reporting.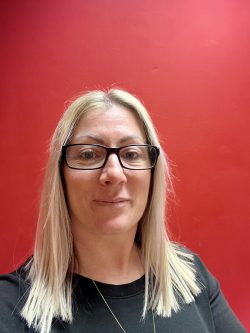 Danielle Campbell
Marketing Co Ordinator
Danielle joined the Team late 2021 and looks after all our Advertising and Marketing, from our new website, social media, and anything in between, like ensuring our engineers vans are sign written, our uniforms are branded, so we're  recognised locally and our customers know who we are.
Ben Rood
Senior Service Engineer
Ben mainly does the routine servicing and checking of gas appliances, which involves quite a lot of fine tuning of boilers to get the maximum efficiency which appeals to Ben.
Ben enjoys nothing more than to make sure the boilers are in tip top condition during his visits. Combined with attending to the occasional breakdown.
Originally training with a national gas company but did not feel like part of a team.
Ben joined First Call Heating in 2007 and has not looked back since.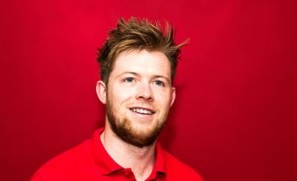 Callum Smith
Senior Installation Engineer
Callum joined our team in 2007 then becoming fully qualified with us in 2010.
Callum covers all installations from fitting boilers to moving radiators, a hard working role that suits his attitude of nothing is a problem. Since becoming a fully qualified engineer Callum has strived to be the best he can be and is a great reliable member of our team.
Alex Walker
Technical Engineer
Alex first joined the team in 2012 as an apprentice becoming fully qualified in 2016.
Alex covers more technical breakdowns and repairs, learning from the boss they both enjoy the challenge of taking something that is broken and finding the right way to fix it.  Alex finds it fun and interesting because there is always a new challenge around the corner.
Being the bosses son means he was taught by the best.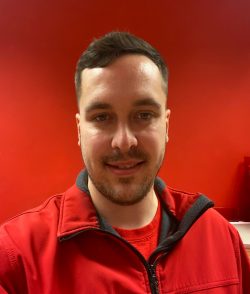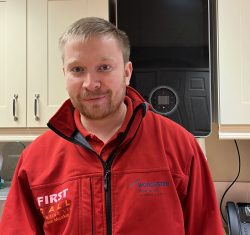 Sam Meakin
Service Engineer
Sam joined the team 2020.
On a day to day basis Sam predominantly covers the boiler services and repairs to keep boilers running at their best performance possible. Sam enjoys his role as everyday can be so varied, he enjoys working hard to ensure our serviced boilers are looked after and kept working.
Chris Cooper
Improver
Chris joined the team in 2020.
Mainly helping out any of the engineer's where needed and learning the skills needed to make a great engineer. Chris does most of our radiator work that being replacements, leaks or changing the valves.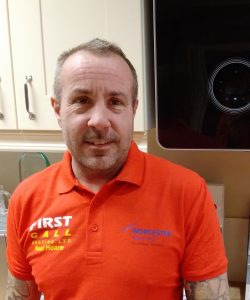 Neal Hoare
Installation Engineer
Neal joined our team in 2019.
Neal covers the installations of boilers and anything that needs pipework.
Neal also works as a paramedic for NHS south so we don't get the pleasure of seeing him as much as we would like.
See What Our Clients Think
Read all our reviews here on google.
Brilliantly professional and prompt, my father switched to them from British gas after the recent issues they have had with the service staff and I cannot fault First Call Heating at all. They are professional, reliable and prompt. Just used them for a boiler service and the chap was polite, rang ahead when running ahead of schedule and completed the job with a minimum of fuss.
Colin Brown
Really polite and helpful man, explained things in detail and knew his stuff. Very quick for pricing and replying of calls made.
stewart harder
Always quick to come and do our annual boiler service. Had no problems with our boiler since it was installed 5 years and the service price has stayed the same I think which is great!
Rachel O'Brien
Have been using First call for the past 4-5 years, on a monthly fee that covers the annual boiler service and in case of a call out. Can't fault them, always on point and on time. Great using a local company.
Stavroula Papageorgaki (StaviP)
Very professional company. I have used First Call Heating three times for different projects and will always go back to them. They have the best customer service and make you feel really special no matter how big or small the job is. Will strongly recommend them to anyone!
Yuliya Mincheva
Firstcall have always been my first port of call over the many years.
They installed our combi a few moons ago and service it yearly. plus they were on hand when i put a screw through a water pipe too. Can't fault them to be honest. Keep up the good work guys & girls.
Darren Wardell
I had a new heating system and boiler installed by First Call and I am really pleased with their work.
Very tidy and flexible arround the customer!
Top notch company.
Julia M